TV STAR FRAN DRESCHER
SET TO HOST CANCER SCHMANCER BENEFIT
AT THE PASADENA PLAYHOUSE
ON TUESDAY, SEPTEMBER 25 AT 8PM
INCLUDES A SPECIAL PERFORMANCE OF UNDER MY SKIN
BY ROBERT STERNIN & PRUDENCE FRASER
A POST-PERFORMANCE TALKBACK SESSION
WITH DRESCHER AND THE CAST,
AND A RECEPTION IN THE PLAYHOUSE COURTYARD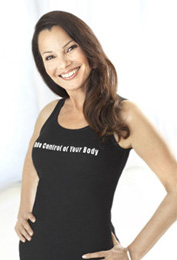 The Pasadena Playhouse has announced that television star Fran Drescher will host a benefit evening for Cancer Schmancer and The Pasadena Playhouse. The evening will begin with a special performance of UNDER MY SKIN by Robert Sternin and Prudence Fraser (co-creators and executive producers of TV's The Nanny), which is currently running at The Playhouse. Immediately following the show, there will be a talkback session with Drescher and the cast in the theatre, and the evening will conclude with a reception in The Playhouse courtyard.
Cancer Schmancer, an organization founded by Drescher, a uterine cancer survivor, is dedicated to saving lives through prevention and early detection. When cancer is detected early, there is a 90% survival rate. Cancer Schmancer believes that everyone, regardless of age, race, or socio-economic background, deserves the chance to be among the 90%.
In UNDER MY SKIN, a twist of fate leads to love and laughs when New York's most eligible bachelor and a single working mom hilariously experience each other's lives and see things from a very different perspective. From the acclaimed writing and producing team of Robert Sternin and Prudence Fraser, and Tony-nominated Ragtime director Marcia Milgrom Dodge, comes the world premiere of an outrageous, new, heartfelt comedy about sex love and healthcare … the three things we all need but can't always get.
Some seats still remain for this very special evening. Tickets are $100, and may purchased by calling Susan von Tress at (626) 921-1161, or via email at groupsales@pasadenaplayhouse.org. For more information, visit CancerSchmancer.org, TrashCancer.org, and tvland.com/shows/happilydivorced. To purchase tickets for regular performances of UNDER MY SKIN, which continues through October 7, visit www.PasadenaPlayhouse.org, or call (626) 356-7529.
The Pasadena Playhouse is located at 39 S. El Molino Avenue in Pasadena, 91101.
# # #
09-24-12