Stones in his Pockets
TUTA Theatre West at the Zephyr Theatre
Reviewed by Les Spindle
August 24, 2011
Photo by Suki Medencevic
In the tradition of "The Mystery of Irma Vep" and "Greater Tuna," Marie Jones' 1999 two-hander "Stones in His Pockets" gets terrific comedic mileage out of versatile actors making split-second shifts among multiple characters. It allows a gifted duo to demonstrate wide-ranging comedic skills, relying almost exclusively on voice and body language to achieve the transformations. Director Zeljko Djukic's rendition taps into the talents of Andrew Friedman and Jerry Richardson, who clearly relish the opportunity to create 16 amusing characters between them. The play's first half is a nonstop lark, but the shift to a tragicomic tone after intermission feels too jarring. Thankfully, this skilled company keeps the boisterous shenanigans entertaining most of the way through.
Hollywood filmmakers have come to a small village in County Kerry, Ireland, to make a movie, giving bored working-class citizens the thrill of playing extras. The pivotal characters are local yokels Charlie (Friedman) and Jake (Richardson), each yearning for a shot at Hollywood glamour and fame. The personal values of the visitors from Tinseltown prove shallower than expected, best exemplified by a flirtatious film star, the bawdy Caroline (Friedman in an uproarious turn), who catches Jake's fancy. Richardson likewise shines in a female role, that of Aisling, an uppity young assistant director eager to climb the studio ladder.
Richardson excels as another eccentric Kerry resident, 70-year-old Mickey, who considers himself a seasoned vet, having performed as an extra in John Ford's film classic "The Quiet Man." It takes Richardson no more than an instant shift to a stooped posture and an immediate change in voice to bring this codger to life. Friedman pulls off equally impressive lightning-swift segues. The mood darkens following a suicidal drowning, as the play's title takes on literal and figurative significance. Though the script is less than the sum of its parts, Djukic's polished production and the appealing actors should satisfy most audiences.
Presented by TUTA Theatre West at the Zephyr Theatre, 7456 Melrose Ave., L.A. Aug. 19-Sept. 17. Thu.-Sat., 8 p.m. (No performance Sat., Aug. 27.) (323) 960-7822 or www.plays411.com/stones.
——————————————————————————————————————————-

'Stones in His Pockets' at the Zephyr Theatre
August 22, 2011 | By Gil Kaan | Category: Theater and Dance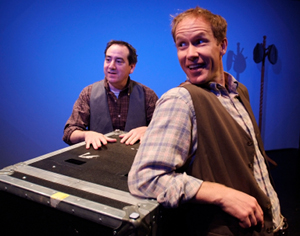 Andrew Friedman and Jerry Richardson star in 'Stones in His Pockets' at the Zephyr Theatre. / Photo by Suki Medencevic
Two phenomenally versatile actors currently command the Zephyr stage with their "Greater Tuna"-esque 15 character portrayals in playwright Marie Jones' Olivier Award-winning "Stones in His Pockets."
"Stones" takes place in modern-day County Kerry, Ireland, where a Hollywood film production takes over the village providing the locals 40 quid a day as movie extras. With the elusive Hollywood dream right at their front doorsteps, the locals have to deal with the pressing issues of scraping together a living, despair, suicides, and Irish camaraderie.
Andrew Friedman and Jerry Richardson play the main extras, Charlie and Jake, respectively, as well as various townsfolk and members of the film crew (both male and female).
"Stones" couldn't be successful in communicating the various range of emotions with any cast of two any less talented than Friedman and Richardson. Friedman and Richardson play off each other so effortlessly, so perfectly in sync; you feel like you're watching/listening to a fine-tuned, two-man symphony. Their many characters change onstage in seconds from one to another with a simple delineation of a shoulder slump or a hand on a hip; with only a kerchief as the characters' main prop to become recognizable and distinct from each character. Occasional flubbed lines and dropped Irish accents can be excused, the two actors engross the audience so.
Zeljko Djukic directs this 105-minute production in a fast, smooth pace giving just enough time for the punch lines to register and for the serious ones to zero in deep.
This tricky stage device of having a pair of actors play multiple roles can easily backfire if the balance and chemistry of talent, both onstage and off, are not well matched. Fortunately, for the "Stones" audience, all are definitively aligned here.
"Stones in His Pockets" continues through Sept. 17. Showtimes are Thursdays, Fridays, and Saturdays at 8 p.m. (no performance Saturday, Aug. 27). The Zephyr Theatre, 7456 Melrose Ave., LA 90046. For tickets, visit www.plays411.com/stones or call (323) 960-7822.
——————————————————————————————————————————-
Thursday, August 25, 2011
Stones in his Pockets by Marie Jones
By Joe Straw
"What is the Blarney Stone?" – Me
"It's something stupid Americans come over and kiss." – My Irish Friend
Go see this production!
Stones in His Pockets by Marie Jones is a wonderful show that is brilliantly directed by Zeljko Djukic.  It is now playing at the Zephyr Theatre, presented by TUTA Theatre West Production, and playing August 19 through September 17, 2011.
Exciting from the opening moment when two characters get into the moment. This is a show that I flat out loved! And days later I'm still laughing. Performed by two actors who are very physical and emotionally connected and who breath an absolute fire into this rendition of Stone In His Pockets.
Go see this production!
This is what I've wanted to see for a long time. Visualize a bare stage, a white backdrop, a coat rack, some chairs, and a chest that serves as various pieces of furniture. Also visualize two great actors (playing both men and women) who with little or nothing on stage create these great characters in a setting that is thousands of miles away.
This is the last time I will say this:  Go see this production!
There is a delightful start to this play.  The lights are on.  The patrons are milling about, chatting about mundane things, and one actor appears on stage, staring at the folks around him.  The audience members are figuratively stepping over him getting to their seats.   He stares at them, their shoes, and dress, looks back a couple of times and goes back to his script. Moments later another actor appears.  Mind you, they are in costume, Irish dress, and still the audience is chatting away not realizing the show had started a few minutes earlier.
Getting into the moment. So wonderful when it happens!
The play is about a picturesque small Irish village and the filming of a big budgeted film, The Quiet Valley. And to give the film that extra Irish flavor it most certainly needs, extras are hired from the community.
The story starts as the extras are waiting to be called to the set.  Charlie (Andrew Friedman) has another purpose in being there.  Charlie is not really part of this particular village.  Nevertheless, he comes with a screenplay in hand, nervously waiting to give it to the right person who will help him realize his dream and help him produce it.
Jake (Jerry Richardson) is seated a few chairs away.  He tosses his hat into the air and waits to be noticed.
Uncomfortable with introductions, Charlie finds a common enemy in the catering truck.  Charlie fights for another piece of pie from the caterer and his request is summarily denied.  (Another humiliating defeat for the sorry plight of extras).
Immediately Jake commiserates with his dilemma and Charlie, in turn starts to tell him his story.  But Jake knows his story because Charlie, not immune to the ways of the Irish, was drinking gin in a local bar and spilling his guts to the patrons all of whom were related to Jake.
"Run like the hammers!" – To run very fast.
Charlie tells Jake he had to get out of the place he was living because his video store was going under and one gets the impression he owed a lot of people a lot of money.
Quick change in character!  (This is marvelously done through the use of scarfs.  Green is Friedman and Blue is Richardson.)
Simon (Friedman) and Aisling (Richardson) are the first and second assistant directors.  They call the extras into position and tell them to look "dispossessed".  You've never seen a sight as these two looking "Irish" and "dispossessed" in front of a camera.
Between "dispossessed" takes Jake introduces his cousin Mickey as the "only surviving extra" from the John Wayne movie "The Quiet Man"
"John Wayne called him Wee Mickey!" – Jake
Quick change!
Mickey (Richardson) struggles to walk, feeling old, looking old and bowlegged but he has one thing the others don't have, "experience".  Mickey advises them to lay low because that is how one survives as an extra.
On the set Jake and Charlie sees Caroline Giovanni, a famous American actress.  To say there were slightly infatuated with her would be an outright lie.  They went nuts.
Quick change!
Caroline Giovanni (Friedman) pouts about not being able to speak with an authentic Irish accent with her dialogue coach, John (Richardson).
And in the commotion Charlie reveals to Jake that he has written a script for a movie and tries his best to give it to the airhead Aisling, the second assistant director. Aisling, with her head in Nirvana, flits away.
Later that night Charlie and Jake are at a local pub when (Quick change!) Sean (Richardson) approaches him, out of his mind, and lamenting that he didn't get a part in the movie.  Charlie dismisses him as someone he doesn't want to associate.
Quick change!
Jake sees Fin (Friedman) and asks him to try to help Sean.  Fin with his head sunken below his shoulders doesn't think this job is for him.   He says he can't do it.
Caroline Giovanni enters the bar and Charlie notices that Caroline is eyeing Jake.
"Caroline Giovanni is mixing with the Plebs!" – Charlie
This is Charlie's chance to get his script to her via Jake.
Charlie then gets plastered with the crew.  He wakes up the next morning on top of the bar in his underwear. Slightly embarrassed he gathers his clothing and speaks to Jake about his encounter with Caroline.  It seems that it didn't go well with the throngs of people surrounding Caroline and also Jake made a big mistake trying to pass himself off as a poet.  Caroline caught him in the lie.
Later Jake is called into Caroline's trailer. But before he gets there he is grilled by Jock (Friedman).  Jock gives instruction to go in and get out in ten minutes.  (Yes, that's enough time.)  When Jake arrives Caroline is in a yoga pose (downward dog) and flashing herself as a young nubile temptress.  Jake decides he's not going to accommodate Caroline with her accent problems or her sexual proclivities.
Later that morning Jake and Charlie find out Sean has committed suicide by filling his pockets with stones and walking into the sea.
This is a wonderful production with a wonderful cast and a wonderful production crew.  What a wonderful way to spend the night knowing that all involved put a lot of time and effort into this production.
Andrew Friedman is a delightful comedic actor and nails each character with ease. There are so many funny moments one would need to go back again and again to catch them all. There are many accents in these roles and Friedman gave it his all. But, just as an observer, one notices a concentration and an objective in him that is never lost from the moment he enters the stage to the moment he leaves. This is a dedication to the craft that is unsurpassed.
Jerry Richardson is wonderful as well.  He is a gifted physical performer and he fits in nicely against his darker counterpoint. His footle ways give one to pay special attention to his craft. He also plays by his own rules, sticks to his guns, and manages to get what he has been searching for, a longtime collaborator. He does so many things wonderfully that one will remember and laugh for a long time to come.
Keljko Djukic, the director has done a marvelous job with these two actors. He moves them about with superior ease and uses the space to such an effect one believes that one is on a set.  The use of the scarves, well I've never seen that done before, quick change, on stage, right before our eyes.  Genius!  The ending also has a great moment that sends the audience out with a huge smile.  Stones in His Pockets was enjoyable from beginning to end.
Marie Jones, the writer, didn't have a credit in the program and I wondered if she existed. She does, thankfully.  I found her in Wikipedia and all over the web.  Just a note to say that it is a delightfully written play, it pushed all the right buttons, was performed brilliantly, and was hilarious to boot.
Natasha Djukic did a marvelous job with the costumes and set design. Keith Parham, the Lighting Designer also did a fantastic job, one particularly enjoyed the bar scene.  Mark Schultz the Sound Designer did a nice job; everything seemed to fit the happenings on stage.
Samara Bay was the dialect coach and did a marvelous job.  The accent wasn't so think you couldn't understand it.
Take a friend and see this production.
By the way, take a friend who hasn't had a job in a while and enjoy the moments.
The Zephyr Theatre, Hollywood, August 19 through September 17, 2011.